Hey, thanks for visiting my blog. I hope you'll stop by often in the future.
Backpacker's Guide to the World is a blog for backpackers. Here you can find tips and tricks for
Anyone can travel with a backpack
Traveling the world with a backpack is by no means complicated and I am convinced that it is possible for everyone and because of that I would like to show you how. In everyday life, I am constantly questioned about my trips mostly by people who have not visited the places themselves. On Backpacker's Guide to the World, I want to show that questioning and being skeptic is very important, but it should not be a reason not to make your dream trip.
But.. who am I?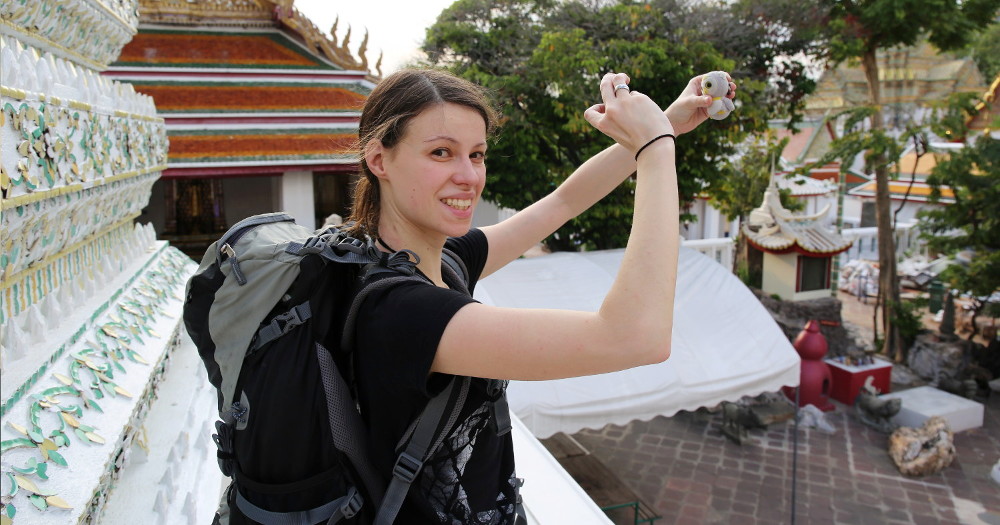 My name is Alise (or rather this is my travel name, which I got sometime ago in Panama because nobody could "pronounce Karola"). I have always loved to travel and I like to be on the road. Towards the end of my bachelor's degree, I wanted to go out and discover the world. Because honestly, studying or working too much can eat you up.
So I did a world trip through 23 countries and lived for eight months alone out of my backpack. Since then there is always a new travel idea, which should be realized soon. I like adventures, nature and above all traveling overland by train.
After my world trip, I stayed in Germany for half a year and then moved for 19 months to Japan, from where I was able to travel to many Asian countries. That's why Japan is one of the main topics on this blog and I see myself a little bit as a little expert about this country.
Afterward I went back to Germany, but that does not mean that there is no further travel. At the moment I live in Riga, the Latvian capital, where I am doing a semester abroad. Therefore exchange and Erasmus are also topics of my blog. But what I like most are backpacking trips 🙂
During my world trip, I felt so free, unbound, and independent. Since I had hardly any plans, I could determine my route spontaneously. A lot of people I met found what I was doing totally awesome and thought I was brave. But honestly everyone can travel around the world .
Backpacker's Guide to the World is meant to show that the world is not as evil as everyone else does. I would like to take people with me on my adventures and show them how they can experience such adventures themselves. I would love to motivate some people to go on their own journey. So far there is no place that I regret visiting, which does not mean that I want to go everywhere again.
The name of the blog comes from my favorite book Hitchhiker's Guide to the Galaxy. In this book, there is a book of the same name, which contains information about all kinds of things in the universe.
Don't panic!