Keep it clean (Doing laundry while traveling)
Backpackers often try to carry and pack as less as possible, so the point of time is reached soon: many clothes are dirty and have to be cleaned. In the road there are a few options to do this:
1. Laundry Service
Depending on the location it can be very cheap and easy to use a laundry service, e.g. from a hotel. This is one of the most environment friendly options because washing by hand requires way more water. Depending on the service the price is either paid per kilogram, load or piece. In my opinion per piece is more expensive compared to the other two options.
I would also recommend to make a list before bringing the clothes to the laundry service to be able to compare afterwards. It's also good not to wait too long to pick up the clothes. In case something went wrong or got interchanged it can be reacted more quickly.
2. Coin Laundry
The second option is using a classical coin laundry while waiting and reading something. I would suggest to buy the detergent in a supermarket because that's cheaper. If you're staying with a couchsurfer you could also ask this person to help with that.
3. Do laundry by yourself
The cheapest option is washing by hand. Therefore, we need a bucket or sink. If there's no plug you could use a plastic bag. If there's neither sink nor bucket you can use a waterproof gear bag. I've used a bit of warm water and detergent and rinse everything with cold water afterwards. Depending on your location you can use hangers or span some string to hang your clothes. Some accommodations prohibit washing by hand, so before doing anything you should inform yourself or do it secretly.
But honestly this method is not very environment friendly, requires a lot of water and takes very long to dry.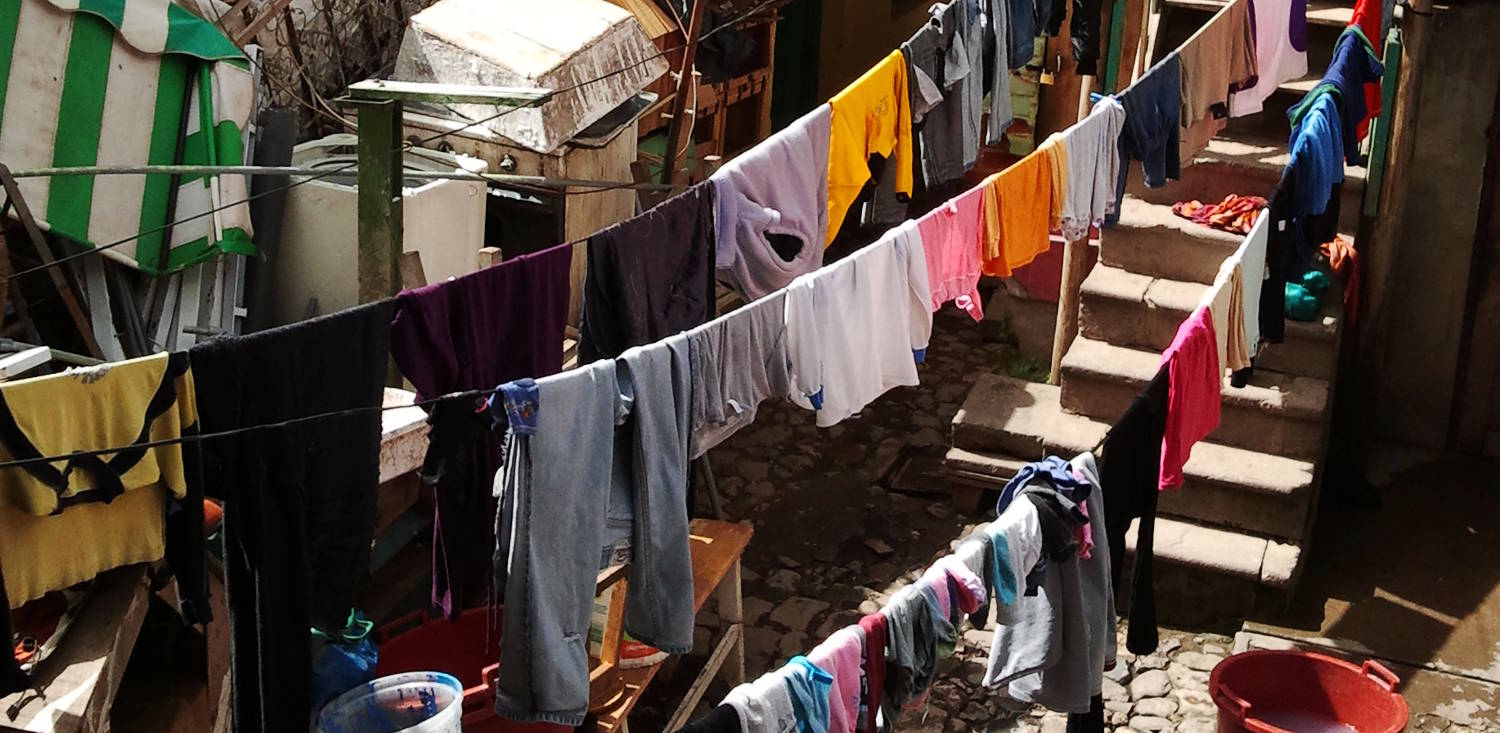 4. Airing
Another good option is to defer the point of time where you have to wash. I always hang up my clothes over night to air them.
5. "Saving"/colours of clothes
Washing can be easier if your clothes have similar colours and aren't too light (like white). Sometimes it can be useful to wear something that is dirty already. Like in case you know that you're doing where you'll sweat anyway.
In case you cannot wash for any reason it's totally okay to wear dirty stuff again or buy something new n the worst case. But I guess planning and having a good overview prevents that. Another thing that helps is using the right storage for dirty clothes. A plastic bag is easy but very bad as the clothes cannot "breath2 and it will stink faster. So I would recommend a cotton or washing bag.
Let me know about your experiences on laundry services, coin laundries or washing by yourself.
Don't Panic!